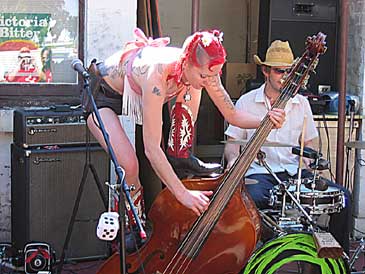 The
Apollo Bay Music Festival
will now be held on the 4th weekend in April, avoiding Easter holidays and being squashed too close to Port Fairy Folk Festival. Hopefully this will also slow down the migration of the folding chairs in shoulder bags, wholemeal knitted jumpers, full beard and "shushing" types who drift up the Great Ocean Road from Port Fairy. To that end I see there seems to be more emphasis on rock music for the younger persons. All we need now is more jazz and classic / avant-garde. The weather last weekend was balmy almost up in the mid 20Cs most days and only slightly cooler at night.


THE RED HOT POKER DOTS
[pic above] are on my list to follow up at a decent venue. No ironic pretend country here but a barrel of full on country honky tonkin' rockin' with Johnny Cash twanging guitar as needed plus verve, swing and engaging stage flash. I can't work out why I hadn't heard or seen them before. Maybe its because they spend lots of time touring in USA. Anyway they are up at Katherine now and heading to Darwin and then QLD and NSW and back to USA. Catch them.


ASH GRUNWALD
is highly recommended. One guy with his guitars and thumping beat box with modern high energy blues rooted in skills from deep soil. CLAYMORE (Scottish folk and pub rock?) I can take or leave most of their set but their final version of Long Way To The Top (If You Wanna Rock And Roll) is one of the best I've heard - fully sick - bagpipes and all. DAVE HOGAN'S MELTDOWN was the best of too many blues combos.
COSMIC PSYCHOS
did a few gigs - I guess it would have helped to be a fan first time around.
DAVID BRIDIE
as himself and also with
MY FRIEND THE CHOCOLATE CAKE
played well attended satisfying sets but hampered, like almost everyone, by bad sound, of which more later.
DIRTY LUCY
, two young women to watch for musical growth and bigger things in the near future (country neo grunge?).
DEBORAH CONWAY
competent and professional.

MIA DYSON
suffered from the bad sound mixes too but showed enough of her licks and Lucinda type approach to make me want to follow her up.


THE YEARLINGS
in the small wooden Anglican Church were truly moving. [My pic below] Lo-Fi completely acoustic, no amps, no pickups, no mikes on vocals or instruments. Infused with John Fahey like yearnings, high mountain imprints and perhaps even some wild mercury (wink). Their bond as a couple charmed and disarmed.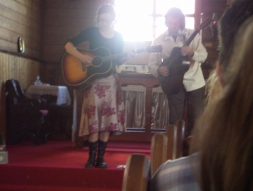 Worth the money? Yes. But. And it's a big but. Why does a festival such as this put up with bad sound mixes / mixers. Why do bands and performers not check the sound from a punters' point of view. Many, if not most gigs at Apollo Bay, had a dreadful mix, muddy with over screaching top end, no middle and loose sloppy muddy bottom end of drums and bass. Are all sound men (and as far as I could see they were all men) deaf old drug soaked hippies? In one pub the sound guy wandered off into the second song of one band and the lead vocal mike dropped out completely - for the whole song! The foldback was apparently still working ok as no one in the band seemed to twig. What the hell is going on? Don't bands and performers these days have any friends who care about how they sound? After the second song the sound hippy wandered back with a plate of steak and chips in his hand and a bemused look, as if to say, " What are you whingeing about - its my show - I'm the sound dude".

Now I'm sure that the organisers will get a lot of complaints - but the complaints will be that "the music was too loud". Now this is what it sounds like to the average punter when the mix is stuffed like it was. But a good mix can be loud and not painful. A good mix doesn't need to be loud. No doubt the organisers will dismiss the "too loud" comments as from old farts who can't appreciate the focus on younger bands. Wrong. Good sound isn't too difficult - even in a tent.